Employee travel expenses

Case studies
About project
The customer asked for the task of expanding the capabilities of the Expenses module and developing a functionality that would allow organizing the functionality of Expenses for business trips per employee in the Odoo system, namely:

Community
Enterprise
Odoo 15/16
Main added functionality:

New tabs in Expense Repor

Dynamic cost calculation rules
Calculator for cost calculation rules in Expense Categories to check created cost calculation rules

New model - Per Diem to limit Expense Categories total spent amount based on some conditions

New logic for reimbursement amount

Changes in Expense tab of Expense Report form

Expenses → Expense Reports → New

Manager creates Expense Report and fills in general information before the business trip:

Report the expenses

As shown in the picture above, after filling all fields in General Info tab, manager can see total amount for Per Diem calculated for the planned trip.
After trip is over, employee should report the expenses (or manager can also fill the expenses, based on the procedures of the company):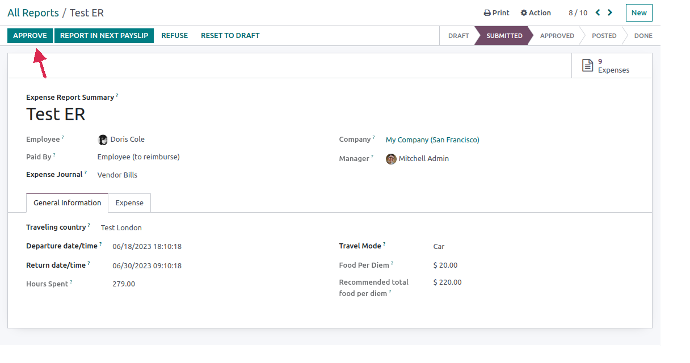 Approve Expense Report

After adding all the necessary expenses employee submits report to manager
Manager's responsibility is to check whether expenses were reported correctly. And, if everything is correct, approve the report:

Post Journal Entries

After report is approved, Manager (or Accountant) should POST JOURNAL ENTRIES to the chosen Expense Journal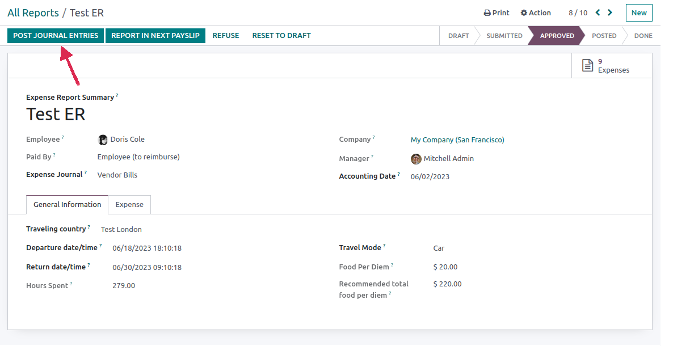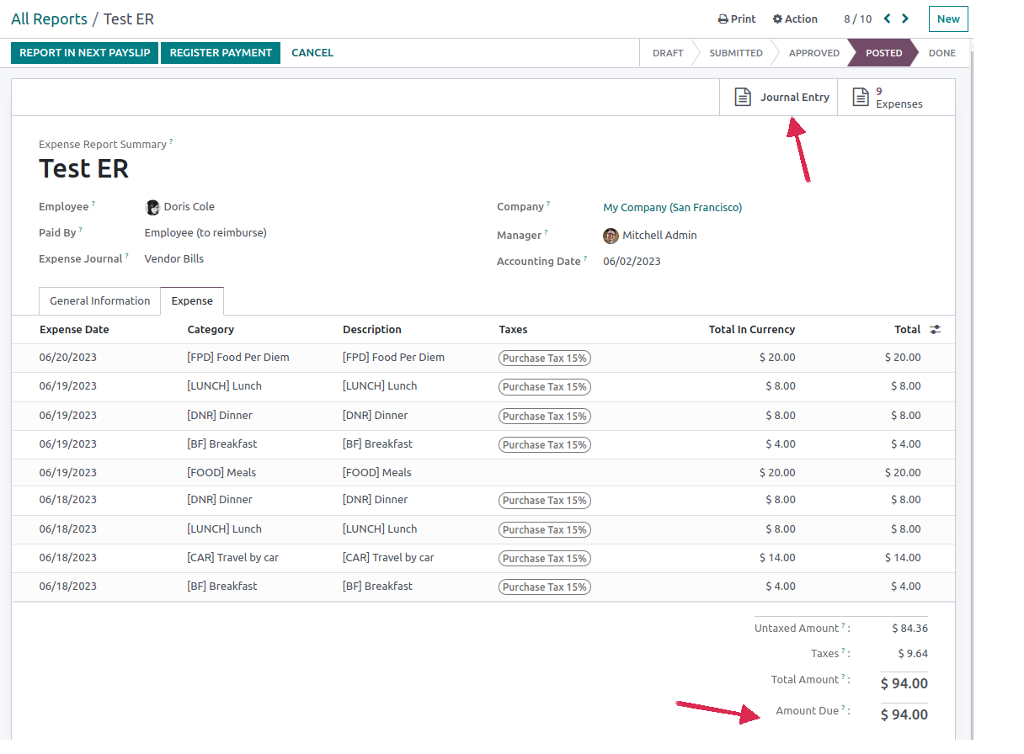 Posted Expense Report

When Expense Report is in status POSTED, manager can keep track of the amount to be reimbursed (Amount Due) and also have access to the Journal Entries tied to this specific Expense Report:

Why should you use our module Travel Expenses?



Odoo Expenses is a module within the Odoo ERP system that allows you to efficiently manage and track expenses related to employee business trips. It simplifies the process of submitting, approving, and reimbursing expenses, ensuring transparency and accuracy in expense reporting.



Netframe team's expertise in customization process can be a valuable asset to organizations looking to optimize their expense management workflows.

Need integration? Contact our team

Lets get in touch