Expanding functionality of the Contracts module
Case studies
About project
We faced the task of simplifying the method of entering data into the contract card by adding custom fields, as well as implementing the function of printing information in PDF format, and setting specific access rights.

Community
Enterprise
Odoo 15/16
Main added functionality:

Added custom new fields to the contract

Created document template for contract based on custom fields

Appropriate access (users, managers, administrators) for contracts has been created

Added limited access to contact visibility

Install the Extension hr contract module

We choose the employee for whom we want to review the contract. To do this, go to the Main menu/Applications and type in the search 'Extension hr contract'. Click Install in the found app
Next, select the contract that you want to change or print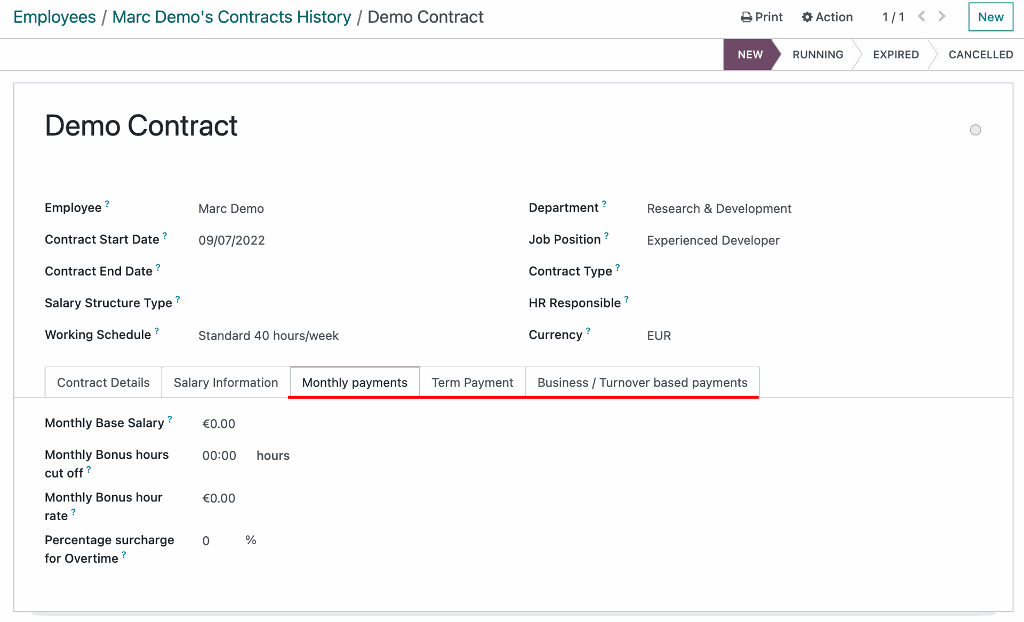 New feature
We edit the fields in the Monthly payments, Term Payment, Business / Turnover based payments columns and print the contract
Also, with the help of this module, we limit the rights of employees to display, create, and edit contracts
If we set that the user is an administrator in the contracts, then he has all the rights (display, edit, delete, create) of any user in our system

Why should you use our module HR?



Integration with Odoo Ecosystem
Odoo HR seamlessly integrates with other Odoo modules such as Payroll, Recruitment, Employee Self-Service, and Time Off Management, providing a unified platform for managing various HR functions.



Efficient Employee Onboarding:

Streamline the employee onboarding process by automating tasks such as document collection, training assignments, and policy acknowledgment.



Leave Management:

Manage employee leave requests, approvals, and balances effortlessly. Set up leave policies and accrual rules tailored to your company's needs.



Centralized Employee Database:

Maintain a centralized database of employee information, making it easy to access and update employee records, personal details, and employment history..



Time and Attendance Management:

Track employee attendance and work hours accurately. Integrate with time-tracking devices or biometric systems for precise timekeeping.



Recruitment and Applicant Tracking

Post job openings, manage candidate applications, and track the entire recruitment process from initial application to hiring.

Need integration? Contact our team

Lets get in touch