Expanding functionality
Time Off module

Case studies
About project
Using the Odoo Time Off module can help your company efficiently manage employee leave, improve transparency, and reduce administrative overhead. It's a valuable tool for ensuring that leave policies are consistently applied and that employees have a clear understanding of their leave entitlements and balances. The company had to change the terms of paid leave for new employees. Also, if the employee fell ill during vacation, give the opportunity to change the type of vacation to sick leave.

Community
Enterprise
Odoo 15/16
Main added functionality:

This module allows you to choose the days when the employee wants to take vacation

Ability to choose and change the type of vacation

Enables the manager to confirm or cancel leave

Install the Change Type Time Off module.

To do this, go to the Main menu/Applications and type in the search 'Change Type Time Off'. Click Install in the found app
Choose the days on which we want to take a vacation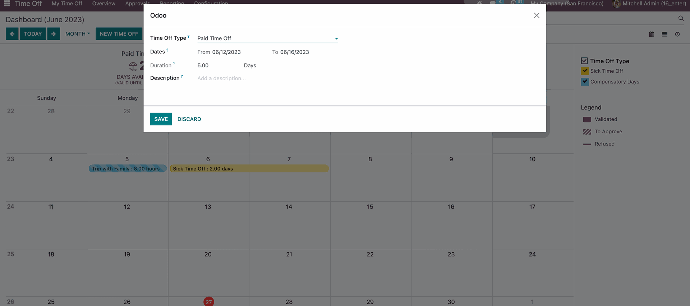 New feature
And if you did something wrong, or for example got sick during vacation, you can change the type of weekend
In the same way, we choose the days on which we want to replace the type of weekend

You will be able to see that your vacation type has changed
If your vacation has already been confirmed by the manager, you will not be able to change the type

Why should you use Time off module?



Centralized Leave Management

Odoo Time Off provides a centralized platform for managing all types of employee leave, including vacation days, sick leave, personal days, and more.



Self-Service Access

Employees can access the Time Off module to request leave, check their leave balances, and view their leave history through a self-service portal. This reduces the administrative burden on HR.



Customizable Leave Policies

Define custom leave policies tailored to your company's specific needs, including accrual rates, carry-over rules, and approval workflows.



Automated Leave Accrual:

Automate the accrual of leave balances based on predefined rules, ensuring accurate tracking of leave entitlements.



Reporting and Analytics

Access reports and analytics to gain insights into leave trends, usage patterns, and employee attendance. This can help with resource planning and compliance.



Customization

Tailor the Time Off module to your company's specific needs by configuring leave types, approval workflows, and notifications.

Need integration? Contact our team

Lets get in touch