Extension of the standard functionality of approval of Timesheets

Case studies
About project
Implemented the possibility for the customer to agree the time sheets of the performers in the personal account of the portal user. They also added the ability to verify report cards with a personal signature. This made it possible to automate and simplify communication between the client and the service provider

Main added functionality:

Viewing Validated Timesheets

Once the Timesheet module is installed and activated, you can view validated timesheets by following these steps:
Navigate to the main menu of your system.
Select the "Timesheet" app from the available options.
Inside the Timesheet app, locate and click the "All Timesheets" button.

Click on the "list" button located at the top right corner of the page.

This action will display a list of timesheets, including the "Validate" field.
By checking the "Validate" field, you can see which timesheets are marked as validated and easily identify the ones that are not.

Automated Attachment of Timesheets to Invoices

If you have an invoice that includes hourly wage payments and you want to attach timesheets to it automatically, you can follow these steps:
Open the specific invoice for which you want to attach the timesheets.
Look for the "Send and Print" button associated with the invoice.
Click on the "Send and Print" button.
This action will generate a PDF file that contains all the timesheets associated with the invoice.
Check the generated PDF file, and you will find the second file named "Timesheet_to_INV...," which includes the attached timesheets.

Approve Timesheet In Portal

Install the module Approve Timesheet In Portal
Change the invoice value to Validated timesheets only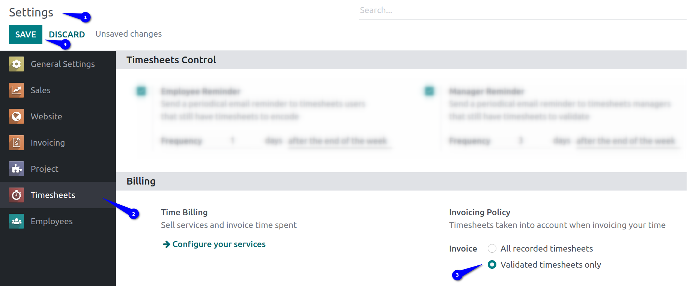 Choose a user (regardless of the Access Mode value, the portaluser will be able to approve timesheet)

Hyperlinks to individual timesheet are available on the portal, select any to confirm. Click Approve to sign


Choose a signature method convenient for you and click Sign

Why should you use our module HR?



Integration with Odoo Ecosystem
Odoo HR seamlessly integrates with other Odoo modules such as Payroll, Recruitment, Employee Self-Service, and Time Off Management, providing a unified platform for managing various HR functions.



Efficient Employee Onboarding:

Streamline the employee onboarding process by automating tasks such as document collection, training assignments, and policy acknowledgment.



Leave Management:

Manage employee leave requests, approvals, and balances effortlessly. Set up leave policies and accrual rules tailored to your company's needs.



Centralized Employee Database:

Maintain a centralized database of employee information, making it easy to access and update employee records, personal details, and employment history..



Time and Attendance Management:

Track employee attendance and work hours accurately. Integrate with time-tracking devices or biometric systems for precise timekeeping.



Recruitment and Applicant Tracking

Post job openings, manage candidate applications, and track the entire recruitment process from initial application to hiring.

Need integration? Contact our team

Lets get in touch