Monthly assessment of employee productivity

Case studies
About project
The customer will address the need to develop a functionality for the HR department that would allow automating the monthly performance review

Community
Enterprise
Odoo 15/16
Managers fill out an employee productivity questionnaire

Data from all questionnaires are summarized on the employee evaluation page. Depending on the range, the result is highlighted in different colors

Analysis data is used to calculate bonuses, bonuses, etc

The evaluation history is stored on the employee's page

As a first step, we need to go to Settings -> Appraisal, and at the bottom of the settings, choose which survey's results should be display

Also, before proceeding with the survey, it's important to ensure that it is properly configured. To do this, let's navigate to Surveys -> Options. In the Scoring field, make sure to select the option "Scoring with answers at the end"
Next step is to correctly assign the number of points for each answer based on the number of questions. In our case, with 5 questions, you should allocate the points as follows:
After ensuring that the survey is properly configured, you need go to the "Appraisal", select an employee for whom you want to conduct a survey and click on "Private note". Here you can see "Performance Review" button, click on it.
Appraisals and Surveys modules
The module displays the results of a survey conducted by a manager regarding an employee in the Appraisals module under the "Monthly quality review" tab. To test this functionality, let's access the existing survey
Next step
Afterwards, a survey will open, the results of which will be calculated and displayed in the "Result" field.

Finaly
After the manager completes the survey, the results will be displayed in the employee's Appraisal under the "Monthly Quality Review" tab, where they will be highlighted with colors according to the corresponding table.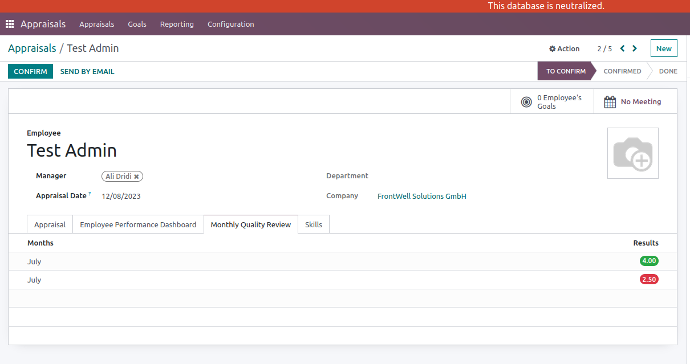 Survey for Employee Appraisal Form
The module "Survey for Employee Appraisal Form" adds a new tab called "Survey for Employee Appraisal Form" to the "Appraisal" module, as shown in the image below. In the "Appraisal Remarks" column, you can add a note

You can change the static fields in the first three columns for one employee, or use Studio to write the default values ​​for creating new Appraisals(it will not change the value of already existing records).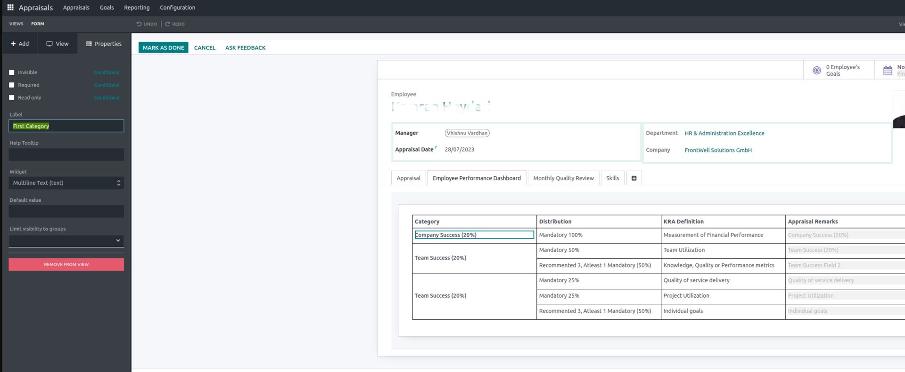 Why should you use Odoo Appraisal
Odoo Appraisal simplifies the entire appraisal process, from setting objectives and conducting reviews to generating reports. This streamlines the process and reduces administrative overhead.

Set clear and measurable performance goals and objectives for employees. Align individual goals with the organization's strategic objectives.

Conduct structured performance evaluations using predefined appraisal forms and criteria. Customize appraisal forms to match your organization's specific evaluation criteria.

Access performance analytics and reports to gain insights into employee performance trends, identify high-performing employees, and track areas for improvement.

The module supports 360-degree feedback, allowing multiple stakeholders, including managers, peers, and subordinates, to provide input on an employee's performance. This provides a holistic view of an employee's strengths and areas for improvement.

Employees can participate actively in the appraisal process by self-assessing their performance and contributing to goal setting and development planning.

Odoo Appraisal sends automated reminders for appraisal activities, including self-assessments, manager assessments, and review meetings. This ensures that appraisals are conducted on schedule.

Odoo Appraisal integrates seamlessly with other HR modules, such as Employee Directory, Employee Contracts, and Employee Evaluation. This ensures that appraisal data is aligned with other HR processes.

We can do more than
you expect

Lets get in touch